Hello Friends!!!
YAY IT"S HERE....
Please feel free to grab this button and display it on your blog to
encourage your friends to join in on the fun too.
There will be some fun prizes up for grabs along the HOP ! ! !
I am thrilled and honoured to be considered one of Jessica's "Blends". What an awesome way to extend your hand in friendship Jessica, ty so much for inviting me to be part of this fantastic celebration. I know all that join us today will be so glad they did, you've done a fantastic job of putting this all together. The prizes are amazing, I would be so lucky to have this kind of candy for my 1st blogaversary in Oct. WOW!!!
We have a lot of amazing crafters in the line up today folks, personally I can't wait to see what everyone has in store for us. I have kept my project a secret to give Jessica the wonderful feeling of "surprise" on her special day. Congratulations Jessica and best wishes for many more blogaversaries to come :)
As I looked through your entire blog, searching for that one project that inspired me so to make something special I saw how much you have grown artistically in the past year, that's what it's all about my friend. It wasn't an easy task picking something I tell you. I have a hard time if there are to many choices, and I always want to put in 110% to please the person I am doing it for.
After several sessions of stalking your blog I kept coming back to one card you made that I totally loved and finally decided this is the one. I love hearts, angels, butterflies and pink, and this card had it all. It's gorgeous Jessica, the image is fantastic, I love it!
I wanted it to be really special so I spent a lot of time thinking about what I was going to make. I had so many ideas floating around in my head, I just couldn't decide. I went shopping for some valentines related paper for another project and came across a wooden craft heart, and the idea was born.
The last one in the store I might add, destiny? :)
Then when I was at the check out I saw this awesome pack of kleenex with hearts all over it, and in my fave colour no less :)
I also made a card branching off of Jessica's sentiment on her card. :) If you would like to check out all the deets on my project I will be doing a separate post for them :)
I know it's pretty girly, but I did make it with my hubby in mind, but I knew if I made it all manly he'd like it for a while and never think of it again, I will love it forever :) He will love it I'm sure, because I made it. I wanted to add ribbon but had to draw the line somewhere on the girly stuff LOL I figured, valentine's day is less than a month away and our 30th Anniversary a month later, why not :)
I'm sure everyone is gonna ask where I got the sentiment stamp for the heart, so I took a pick of it before I masked and altered it. I had this saying running through my head for days and I didn't know how to make it like that in different fonts to print it so what else could I do LOL :) Believe me, masking this wasn't easy
NOW ON TO ALL THE FABULOUS PRIZES WE PROMISED YOU!!!
A few days ago a fb friend did a post offering blog candy for our blog hops if we were looking. I told her I was in this hop and asked if I could get her to sponsor me, she happily agreed. So I am so thrilled to be able to offer you
a $25.00 blog candy certificate to Nikki Schiltz Calmes webstore:
http://paperpiecingsbynikki.com
This is fantastic, ty so much Nikki!
Adorable banner toooo, love the lil wagging tail and blinking eyesl...omg!!! LOL
We are also honored to have Stephanie of Whimsical Designs as our Grand Prize Sponsor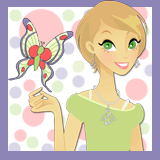 One Random Hopper will be selected to win
the entire New Release of Whimsical Designs Stamps
This is a fabulous stamp set with wonderful and unique images and sentiments. You are
sure to find a sentiment to fit every occasion!!!!
I am also honored to have Julie K of A Little Bit of Bling and 3 Girl JAM
as an additional Prize Sponsor
One Random Hopper will be selected to win
the entire Valentine's Day Bundle
This ribbon is so fun to use in projects, the colors are vibrant, and
the prices are OUTSTANDING
I am offering not 1, not 2, but . . . 3 Unity Stamp Goody Bags to 3 lucky Hoppers!!!
Each bag is filled with 16 random Unity Stamps
I had so much fun stamping the goody bags, with Unity Stamps of course, and
getting them prepped to go to their new homes!!!
I am also offering 2 Lucky Hoppers
1 set (5 per set) of my Handmade Corsage Pins
for you to use in your own creations
For a final prize to a lovely Hopper
$10 Gift Certificate to be used at
Pink By Design
? ? ? How about THOSE PRIZES ? ? ?
And, there is SURE to be more
awesome CANDY along the way!!!
Here is the WONDERFULLY TALENTED Lineup:
Now, for the Rules (pretty simple)
1. Hop along to each of the Hop Stops
2. Leave a comment and become a follower at EACH stop, if you aren't already
3. Stop back here and let me know what you thought about the entire Hop
and tell me which Project was your favorite
4. For an extra entry into the drawing for any of the prizes here, join in on the fun!!
Create a project by using one of my past creations as inspiration. Post about it on your blog, explaining which project inspired you, and leave me another comment with the link to your project!
You will have until January 25th at Noon (EST) to finish the Hop and Link Your Projects.
5. For another chance to get some extra entries into the drawing for any of the prizes I am offering,
Just stop back to let me know how you did it...sidebar, blog post, FB share, etc.....(1 extra entry for each time you spread the news)
* * * * *ONLY THOSE FOLLOWING THE RULES WILL BE INCLUDED IN THE RANDOM DRAWINGS FOR THE PRIZES * * * * *
The winners will be chosen by Random and announced after I have gathered all the comments and consulted with all of my Blends!!!